CRC - 5 Pack Tune Revision Credits
CRC - 5 Pack Tune Revision Credits
---
Tuning by Crawford Race Calibrations
This Product is a 5 Pack of Tuning revision Credits to be used in conjunction with a CRC Base Map!!
You MUST have a CRC BASE MAP to use these revision credits!
Flash Tuning is an excellent way to increase the performance of your vehicle in both stock configuration and with upgraded components. The Base map tuning is a great start to your tuning experience and is upgradeable to a custom calibration at anytime when you are ready for it.
Base Map Tunes are a one size fits all type and as such, the calibration must be acceptable for a broad variety of fuel qualities, after market part variety and of course remain safe. So while these Base Map Calibrations still add a substantial bump in power over the stock tuning, there is room left by design for safety across these variance to improve upon the performance gains available. This is accomplished by choosing to have custom calibration revisions performed to your vehicle based on logging feedback to the tuner via email. The tuner will review the data logging information and further refine the calibration to custom tailor a tune that works most efficiently with your engines existing requirements for fueling, boost and ignition timing with the fuel octane available. This should not be confused with tuning "on the edge" as safety and reliability are always the number one concern with a CRC Tune.
CRC Base Map Calibrations are 100% proven both on a Chassis Dyno as well as under Real World road conditions to verify that both power and drive-ability remain at an acceptable standard.
To select the appropriate tune for your vehicle, Please choose the Modifications you will be using the tune with from the drop down menu options above along with the vehicle information so we can provide the correct calibration for you.
These calibrations are flashed using the MHD Flasher app available for android devices on the google Playstore. They require the use of an OBD2 INPA Cable available as an option for purchase in the drop down menus above. The MHD Flasher app requires a one time purchase license to activate and be able to use the flashing app. Purchase of the license is done through the app itself with Paypal and a phone or Internet connection. Based on your tune, the tuner may require you to purchase additional MHD features to unlock other upgraded aspects of the Flasher App.
---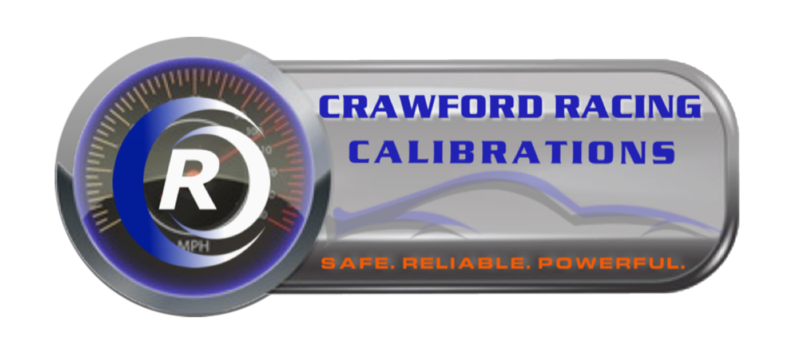 Crawford Racing Calibrations – Terms of Use Agreement
***The installation of this product and or service indicates that the buyer has read and fully understands this agreement and accepts its terms and conditions. Do not use this product until you have carefully read the following agreement. This agreement sets forth the terms and conditions for the use of the performance product and/or service. ***

DISCLAIMER Performance Products and Service

Read carefully before installing any performance product and/or service. This is a high performance product and service. Use at your own risk. Products and Service are for off road use only. Use of any Crawford Racing Calibrations product and/or service on public roads and/or used on any emissions controlled vehicles is prohibited.

DISCLAIMER Performance Warranty

By installing this Product and/or Service, Customer Understands and Agrees that as a High Performance product and/or service, individual results may vary depending on make, model, condition and usage. Crawford Racing Calibrations shall in no way be held responsible nor liable for any of the results, claimed or otherwise, that may or may not come from the product or service. Customer also understand that the original vehicle manufacturer makes its own determinations regarding the effects of Add-On products and/or service to its warranties, Crawford Racing Calibrations shall in no way be held responsible nor liable for anything pertaining to or resulting from the original vehicle manufacturers warranty and/or terms of use. This Product and/or service can interfere with and should be removed from the vehicle before any diagnostic testing.

DISCLAIMER OF LIABILITY

Crawford Racing Calibrations, its distributors or dealers shall in no way be responsible for the products proper use and service. The buyer of this system hereby waives all liability claims. The buyer acknowledges that he is not relying on the sellers skill or judgment to select or furnish goods and/or services suitable for any particular purpose and that there are no liabilities which extend beyond the description on the face hereof, and the buyer hereby waives all remedies or liabilities, expressed or implied arising by law or otherwise, (including without obligations of the seller with respect fitness, merchantability and consequential damages) or whether or not occasioned by the seller's negligence. The seller disclaims any warranty and expressly disclaims any liability for personal injury or damages. The buyer acknowledges and agrees that the disclaimer of any liability for personal injury is a material term for this agreement and the buyer agrees to indemnify the seller and to hold the seller harmless from any claim related to the item of the equipment or service purchased. Under no circumstances will the seller be liable for any damages or expenses by reason of use or sales of any such equipment and/or service. The seller assumes no liability regarding the improper installation or misapplication of its products and/or services. It is the installer's responsibility to check for proper installation and if in doubt the manufacturer is to be contacted.

DISCLAIMER Performance Products and Service Warranty

By installing this Product and/or Service, Customer Understands and Agrees that Crawford Racing Calibrations offers no warranty, refunds or returns on any high performance product and/or service.