FPM-1 DIY E-Series 135i 335i N54 N55 E85 Fuel Pump Kit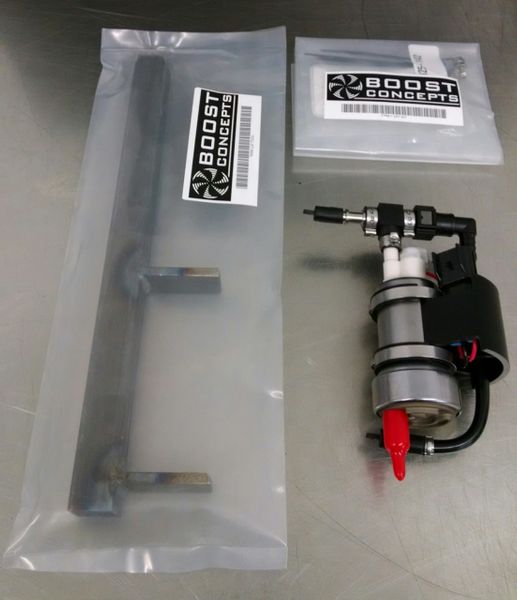 FPM-1 DIY E-Series 135i 335i N54 N55 E85 Fuel Pump Kit
**NOTE**  PnP Pumps and DIY Pump Kits are IN STOCK and shipping!
---
Product Description
The FPM-1 DIY E85 Pump Kit is the perfect solution for those 135i 335i N54 and N55 owners who are maxing out their factory low pressure fuel pump (LPFP) when running E85 fuel mixes. This fuel pump modification has been shown to effectively supply ethanol mixes higher then the High Pressure Fuel Pump (HPFP) can adequately utilize.  Appropriate logging should be used to verify system performance and to ensure the the LPFP and HPFP are operating within acceptable ranges.  Based on reports and Datalogs supplied during the Beta Testing, this configuration was capable of E60-E70 mixes depending on the health and age of the HPFP. Your results may vary.
The kit comes pre-assembled and ready to be installed in your factory OEM fuel pump bucket.  All required hardware is Included in the kit. Please feel free to watch our instructional installation video series on our YouTube channel linked below.  Typical installation time ranges from 1 hour to 2.5 hours depending on your technical skill level.  These time frames are based on Beta Tester installation times submitted.
---
Product Features and Benefits

  Completely Plug-n-Play Factory Connections




  100% Ethanol and Gasoline compatible materials for constant submersible use




  Genuine Walbro F90000267 450lph E85 

Compatible Fuel Pump 




  Full Instructional installation Videos for easy follow along installation




  Supplied with Complimentary Fuel Ring Removal Tool




  DIY Kits Minimize downtime and the hassle of core refunds

  100% Pre-During-Post installation tech support available
---